The city bike is becoming an increasingly popular mode of transportation. In addition to the unicycle, you will need bicycle accessories. Be sure to check how to choose a professional urban bike equipment.
Saddle – comfortable and suited to the shape of the body
Choosing the right saddle for women's bike is very important. Remember that women have a slightly different anatomy, so that the weight of the body rests on the outer intimate parts of the body. In order to avoid burns and pain during long bicycle rides, it is advisable to choose a saddle model which will have a special depression or silicon pad in this area.
>> See also: Country cottage or house near the city? How much does a country house cost?
When choosing a saddle you should pay attention to:
its width – it should be as wide as the spacing of the ischium, in professional sports stores you can easily check this by sitting on corrugated cardboard lined on the saddle. The resulting indentations will allow you to judge whether a given model will be suitable for you; however, the saddle must not be too wide to prevent excessive chafing while riding;
the material of which it is made – good quality leather saddles can last even for the next generation, you can choose from natural or synthetic materials. During the heat of summer, however, your comfort matters, so it's important that the material is breathable. A natural saddle covering unfortunately requires constant waxing and maintenance;
shock absorbers – when riding on rather bumpy terrain, shock absorption is very important. Dutch saddles have such a facility, thanks to which cycling is much more pleasant.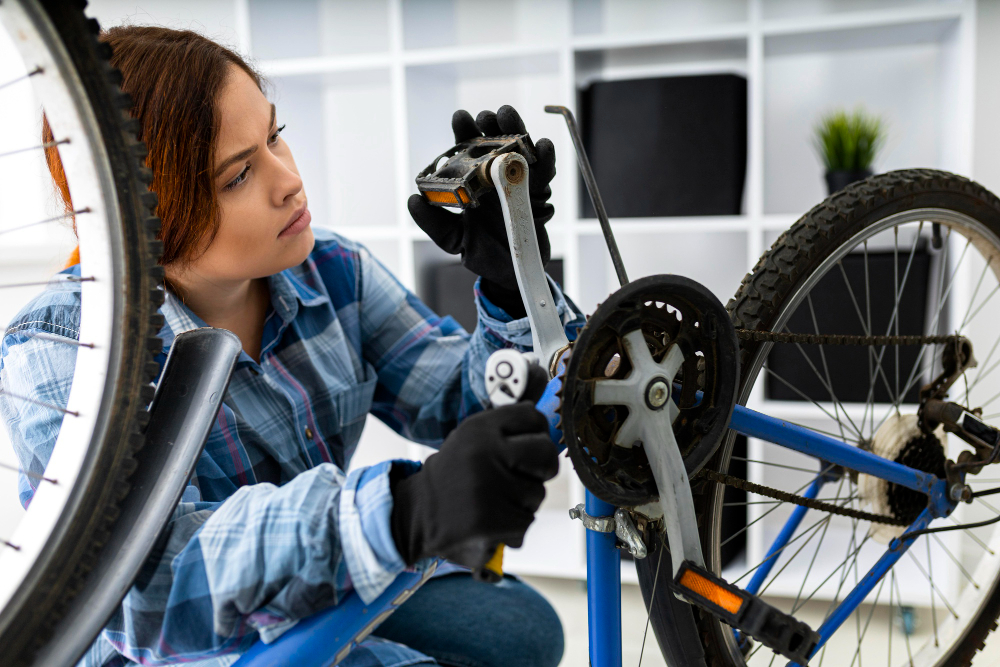 Bicycle bell
A bell in a bicycle is a basic and required equipment, thanks to which the vehicle can be allowed to ride. You can choose from many interesting models of bells:
gong bell – a very popular road bell, which is characterized by its small size, and also easy to install – it has a special clip, placed on the handle, unfortunately it wears out quite quickly and makes a rather dull, single sound,
horn bell – looks like a trumpet and is quite loud, more often chosen by children for their unicycles,
a bell with a knocker – this bell makes a rather loud, double sound and is very durable – it will last you several seasons, but takes up more space on the handlebars.
City bike basket
A basket is a very practical piece of bicycle equipment. It makes it much easier to carry all the necessary accessories, such as mineral water, a bottle with a drink, a bag or shopping. Wicker baskets are a great choice for Dutch bikes.
Bicycle baskets available in stores are:
steel baskets – they are much more resistant to higher loads and you can fit even heavy shopping in them, additionally you do not have to take them off or cover them when you are surprised by rain. Many models are coated with a special anti-corrosion preparation, thanks to which they have better durability, even in high humidity;
wicker baskets – they are designed for carrying smaller loads and look a bit more feminine and elegant. They can be enriched with a cotton lining, removable and washable if necessary.
A bicycle basket should have a capacity of 8 to 10 liters. It is mounted with hooks or click fasteners. Many models also have a handle, so you can also take the basket for everyday shopping.
Bike lights
Right after the bell, this is also an essential piece of bicycle equipment. Road safety regulations require both front and rear lights. The front ones should have a slightly longer range, especially if you ride after dark.
Choose them by:
the mode of operation – continuous or flashing – the second way is suitable for tail lights as it signals well to vehicles your presence on the road,
mounting method – the simpler the mount, the better for you,
water resistance – in case of long trips it is very important to protect the lights from splashing water, lights with IPX4 rating are recommended, so the connectors will not be flooded, even in a heavy downpour,
power supply – you can use ordinary batteries for power supply, but they deplete quickly; modern models of lights have the possibility of charging via powerbank, which is great for long bike trips.