For most people, cleaning the oven is a real nightmare. Although it is not easy to remove dried-on grease or burned-on stains, fortunately there are proven methods which can help to deal with stubborn dirt.
It is worth remembering that regular oven cleaning also has an impact on the taste of the dishes and baked goods you prepare. In our guide we have gathered some of the most effective methods that will help you restore your oven to a fully clean state.
Cleaning the oven – how to start?
Keeping your kitchen appliances, such as your oven, clean can be a real pain. Dried-on stains or burnt-on grease marks are very difficult to remove if you don't know how to do it. We've put together some top tips to help you tackle a dirty oven efficiently!
Consider what type of stain you will be dealing with. Fresh stains require a completely different approach than dried-on ones
Choose a specialised cleaner, dedicated to specific stains. In stores, we can find a wide range of preparations for grease, dirty fronts or burns. Thanks to concentrated active ingredients you will get rid of dirt much faster.
Before you start cleaning the oven, make sure that it is cold. Contact with the heated up metal surface can be very dangerous – it can cause serious burns and also an undesirable chemical reaction after contact with the used product. The vapours emitted can be very irritating to the skin and eyes. Wear rubber gloves when cleaning just in case.
Remove the baking tray from the oven – this element will be the most convenient to clean separately. You can put it in the sink and leave it to soak with a suitable liquid. This will make it much easier to remove even dried grease stains later
You should protect the floor under the oven and prepare a supply of paper towels, which can be helpful while cleaning.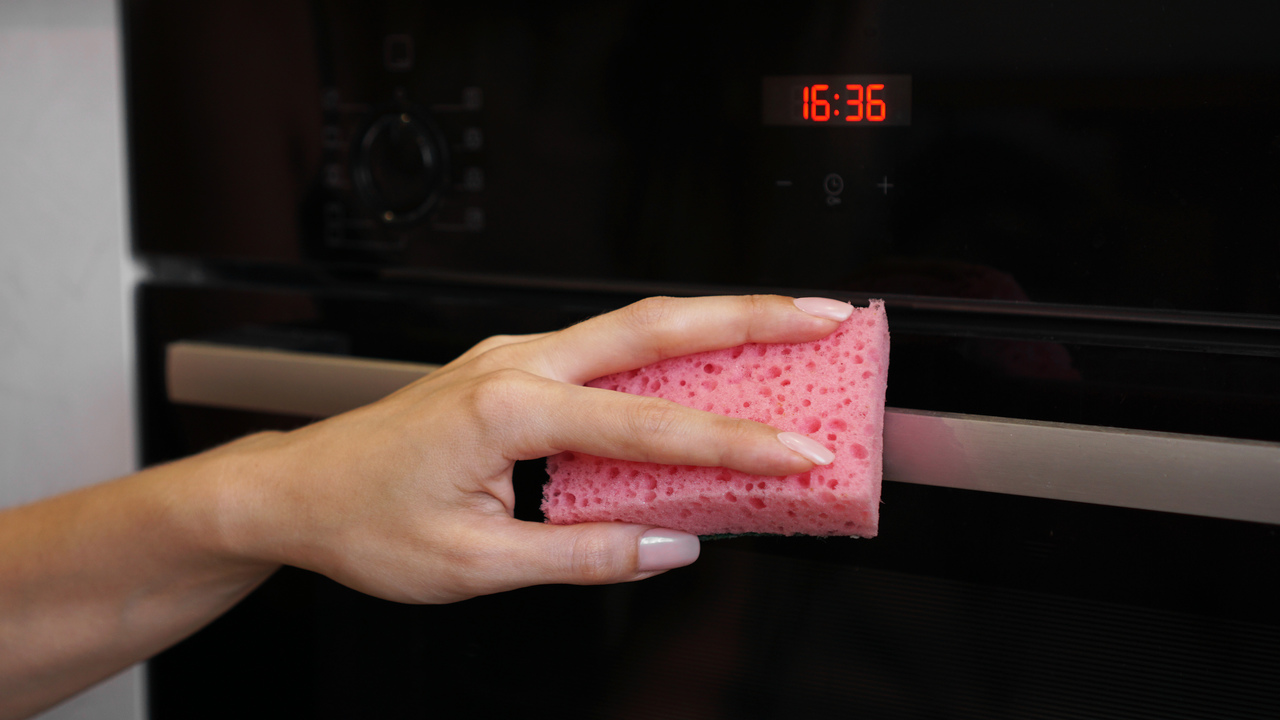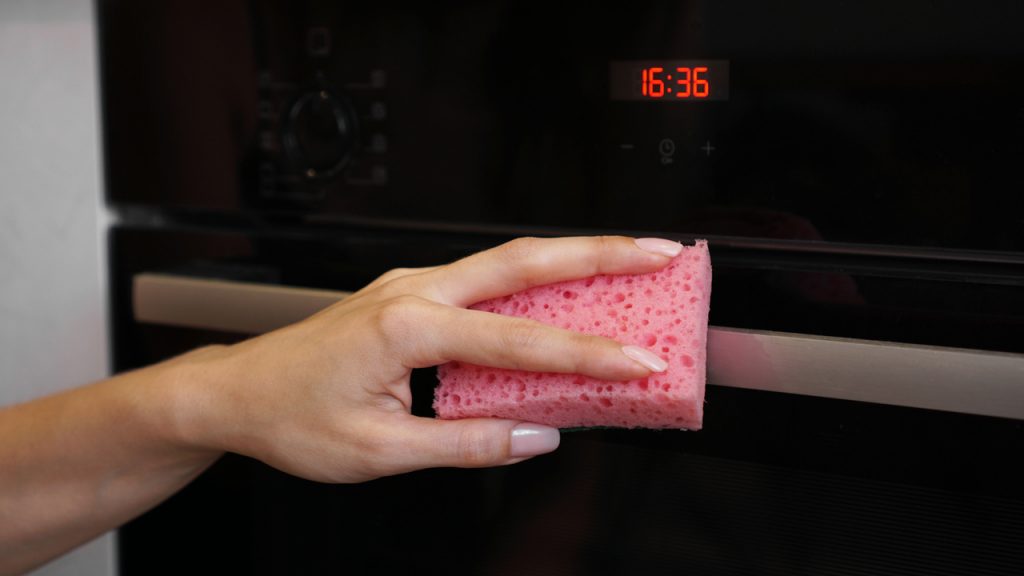 How to get rid of minor stains?
The vast majority of stains in the oven are easy to remove. It's mostly small stains and remaining food crumbs. You should start by wiping the surface inside the appliance with a damp cloth or sponge (possibly dampened in a 1:1 mixture of water and vinegar, which will intensify the effect). Wait a few minutes and repeat the same process. You may find that most of the dirt comes off on its own. You can also try other natural preparations that help remove most stains
How to remove dried stains from the oven?
If wiping the inside of the oven with natural water-based products doesn't help, it's worth reaching for concentrated products. Dried and burnt-in grease stains are among the most difficult to remove, but there are methods for that. One of the most popular home methods is cleaning stains with a mixture of water, vinegar and baking soda. Leave the home remedy on the dried surface for a few minutes and then clean in circular motions with a rough sponge
Unfortunately, sometimes such home remedies do not help and you have to reach for professional preparations available in stores in the home chemistry section. Before buying, make sure what is the purpose of the product – there must be clear information on the packaging that the agent can be used for kitchen surfaces or is dedicated to ovens and microwaves. Various types of stain removing liquids, foams and sprays that remove grease, as well as soot and burns should work perfectly
Taking care of the cleanliness of the oven – what to remember?
The interior of the oven often requires more intensive and concentrated preparations than the exterior of the equipment. The door, the handle and the knobs can usually be cleaned with an all-purpose liquid for kitchen surfaces.
>> See also: 9 tips on how to quickly clean your home
Dedicated preparations for removing burnt-on grease and other deposits will be good not only for taking care of the interior of the oven, but also for the microwave, grill or fireplace. The key to success is regular maintenance to extend the life of your equipment and avoid tough stains. Try different methods to find the most effective way for you.