Arranging a room for a boy and a girl is not an easy task, especially when it is to serve not only as a bedroom, but also as a playroom and a dressing room. So how to arrange a room for kids so that neither of them feels left out?
Separate zones
If a boy and a girl are to live together, the room should be arranged in such a way that it is one whole, but there is a place for each of them. Each child needs a little privacy. In this situation, it is necessary to separate two separate zones in the room. We can do it with a bookcase or a decorative curtain. In this way we will get two separate corners for playing, reading books and resting.
If the space allows us, it would be worth preparing a third zone for playing together. Such a place may be a large round rug in the middle of the room or a table with two chairs of two different colors
Another challenge will be choosing the color of the walls. This wouldn't be a big problem if it were same-sex siblings, but if it involves a boy and a girl, arguments and disagreements can arise. Girls usually like shades of pink, while boys are closer to colors such as blue.
The best solution would be to paint the walls white, but nothing stands in the way of painting the walls in two colors, according to separate zones and preferences of the kids. To emphasize the individual character of each child, you can hang on the walls various pictures and posters, e.g. with their favorite cartoon characters.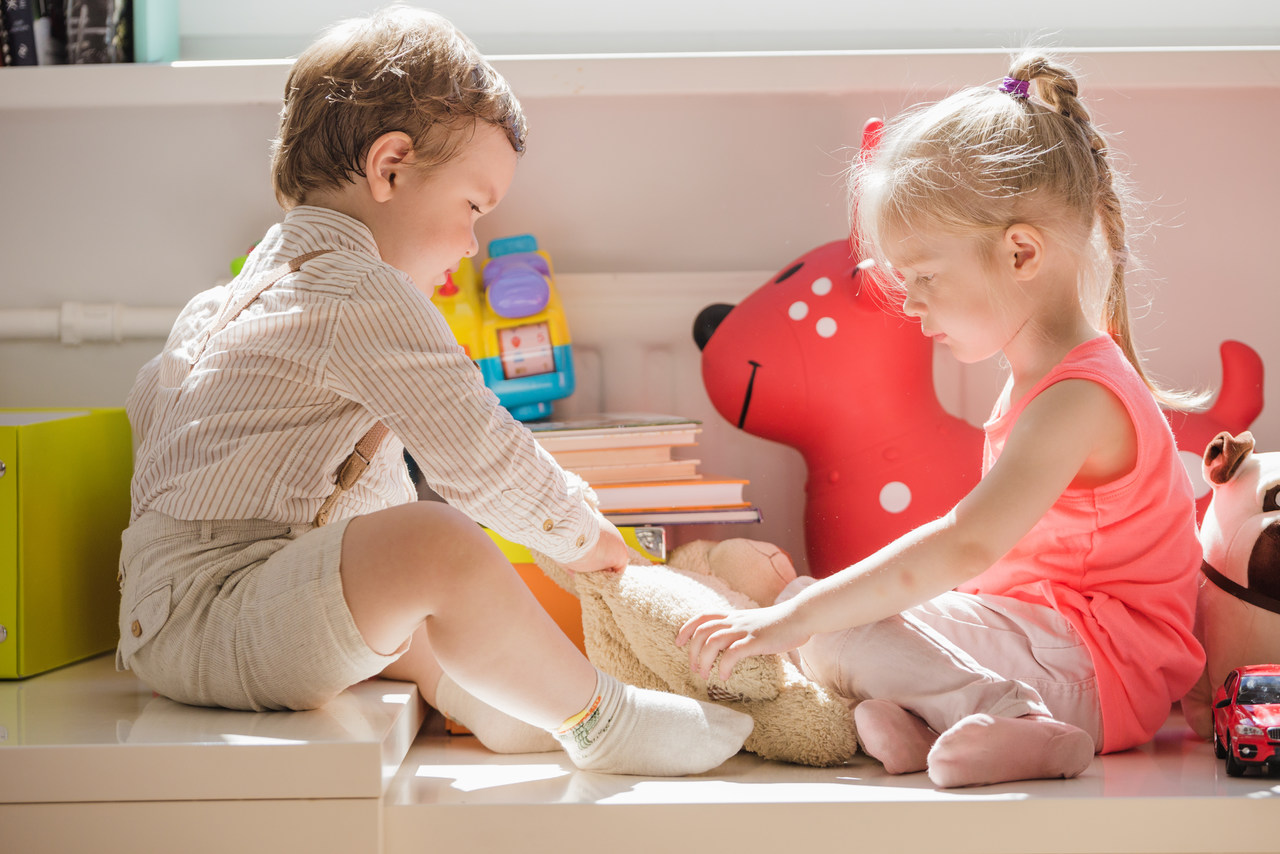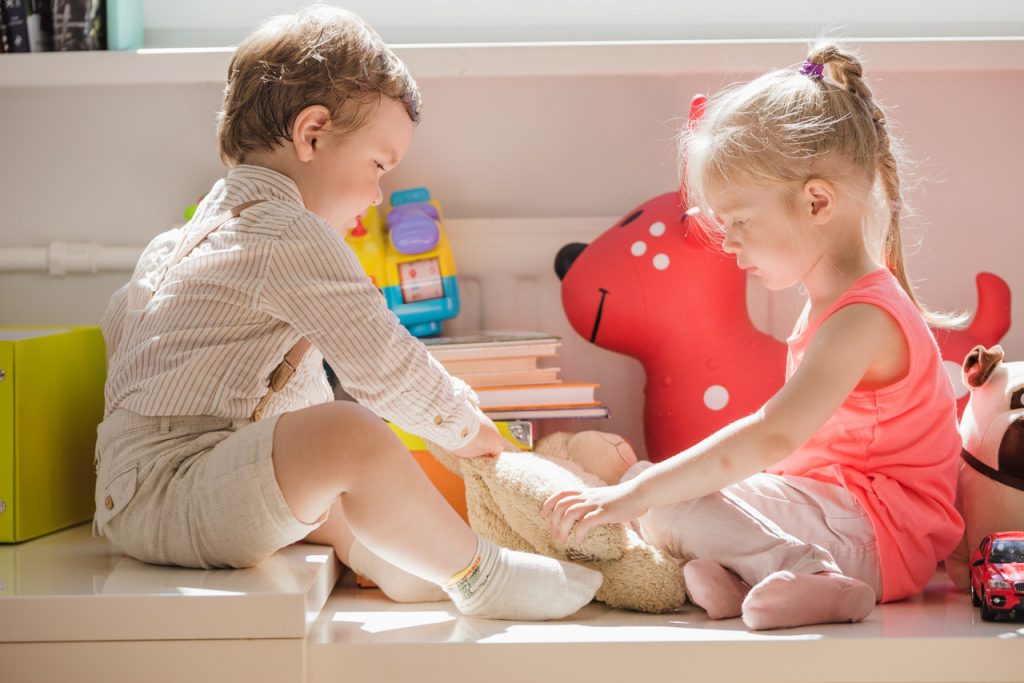 Storage space in the children's room
A child's room has to accommodate many different objects – mascots, blocks, books, notebooks, crayons or clothes. It's worth making sure that everything has its place. In choosing the equipment we are guided by functionality and aesthetics. Undoubtedly, the biggest role will be played by furniture – beds, a table with chairs and a closet for clothes. A closet for a common room for children should be equipped with two columns of shelves and two rods for hanging clothes – it will definitely make it easier to separate the clothes of toddlers.
Resting place – beds
In a children's room, beds will also be an important element. Sleeping in one bed is not very comfortable, plus it can be a reason for quarrels between siblings. If the space allows you to put in two separate beds, this will be the best solution. However, if this space is too little, a better idea will be to buy a bunk bed. Regardless of the type of bed we decide on, it's worth ensuring that it's equipped with a chest for bedding and other practical hiding places
A place for common play and study – a table and a bookcase
In a child's room, a table with chairs will certainly come in handy; when buying one, make sure it has a locker for storing crayons, paints and colouring books. Beds, closet and a table are not enough to accommodate all the child's possessions. We should think about additional furniture and practical accessories.
If we have decided to divide the room with an open bookcase, we can now arrange it properly. Numerous shelves will allow you to put mascots, books and puzzles on them. We can also put polyester boxes in the shelves of the bookcase, which are perfect for storing small toys.
If we have enough space, we can also put two smaller bookcases. One in the girl's zone for her favourite dolls, pony ponies and a treasure chest. The second will be perfect for the boy's zone for cars and figurines of heroes from your favorite fairy tale.
Shelves, containers, modular furniture
It's also worth taking advantage of the empty wall space in both spaces. Hanging shelves are perfect here, on which we can put, for example, frames with interesting prints, a favourite teddy bear or interesting teaching aids. Plastic containers and wooden boxes with upholstered lids will also work well for storing toys, as their appearance can emphasize the distinctiveness of children's corners.
Recently, modular furniture, which combines a place to sleep, study and play, has also become fashionable. In this way, you can create different configurations, combining functionality and saving maximum space.